words by Patti Riek
photos by Jon Bauer
With the sun shining, dragon flies zipping around, colorful parasols, face-painted kids, festive libations dotted the meadows and hills for the penultimate summer 2023 Stern Grove show on Sunday, August 13.
Patti Smith – poet, musician, keen observer – opened her show acknowledging the trials and tribulations of the crowd members who arrived early. Next, wishing City Lights Bookstore a happy 70th birthday as a purveyor of "spiritual food," she read "Sunflower Sutra" from Allen Ginsberg's Howl and Other Poems. Smith's choice of Ginsberg's words remind us that "We're not our skin of grime, we're not dread bleak dusty imageless locomotives, we're golden sunflowers inside" and as the speaker (Ginsberg) stands to "deliver [his] sermon to [his] soul, and Jack's [Kerouac] soul too, and anyone who'll listen." Patti Smith's show illustrated the power of poetry and music to speak truth and offer hope.
Her first song of the set was "Waiting Underground" interspersed with a riff on Ginsberg's "Howl" Sunday's iteration acknowledged the desperation of today: "hope…/Down the drain of your humankind"and the "best minds" of a generation both wracked by loss. Even with "everything exploding" Smith reminded us "we can build it back again" with poetry, empathy, electric guitar and a Marshall amp.
With her longtime band – Lenny Kaye, and Jackson Smith (her son) on guitar, Tony Shanahan on bass, and Jay Dee Dauherty, drums – Smith saluted workers, told stories and sometimes played acoustic guitar through "My Blakean Year" "Summer Cannibals," "I Had too Much to Dream (Last Night)," "Nine" and, of course, "Because the Night" among others.
An afternoon of stories, Lenny Kaye shared a long ago San Francisco experience involving a Grateful Dead concert before his rendition of "The Golden Road." After this song, looking across the grove, Smith said the people were like "a million flowers moving through the trees."
Introducing "Beneath the Southern Cross," Smith explained that the song is both one of "remembrance" to so many we have lost recently and a song of "life." To Smith, song (and by extension all art) remains a "living aspect" of the artist. Much like this idea, Smith's work and references are both historical and timely.
Before Smith, Bob Mould (a Castro resident who doesn't listen to "people who hate on the city,") offered his "stand and deliver" style performance with only his vocals and electric guitar. Working through Hüsker Dü favorites like "I apologize" and his own pieces such as "Next Generation" and "Voices in My Head," Mould's crunchy guitar sound filled the grove. Just before closing his set, Mould told his Patti Smith story – waiting to have a record signed as a young man.
Early arrivals had San Francisco DJ Allyson Baker to thank for an eclectic set to match the varied crowd.
Kaye's, Mould's, and Smith's stories exemplify that even in the wide world, paths cross and intersect.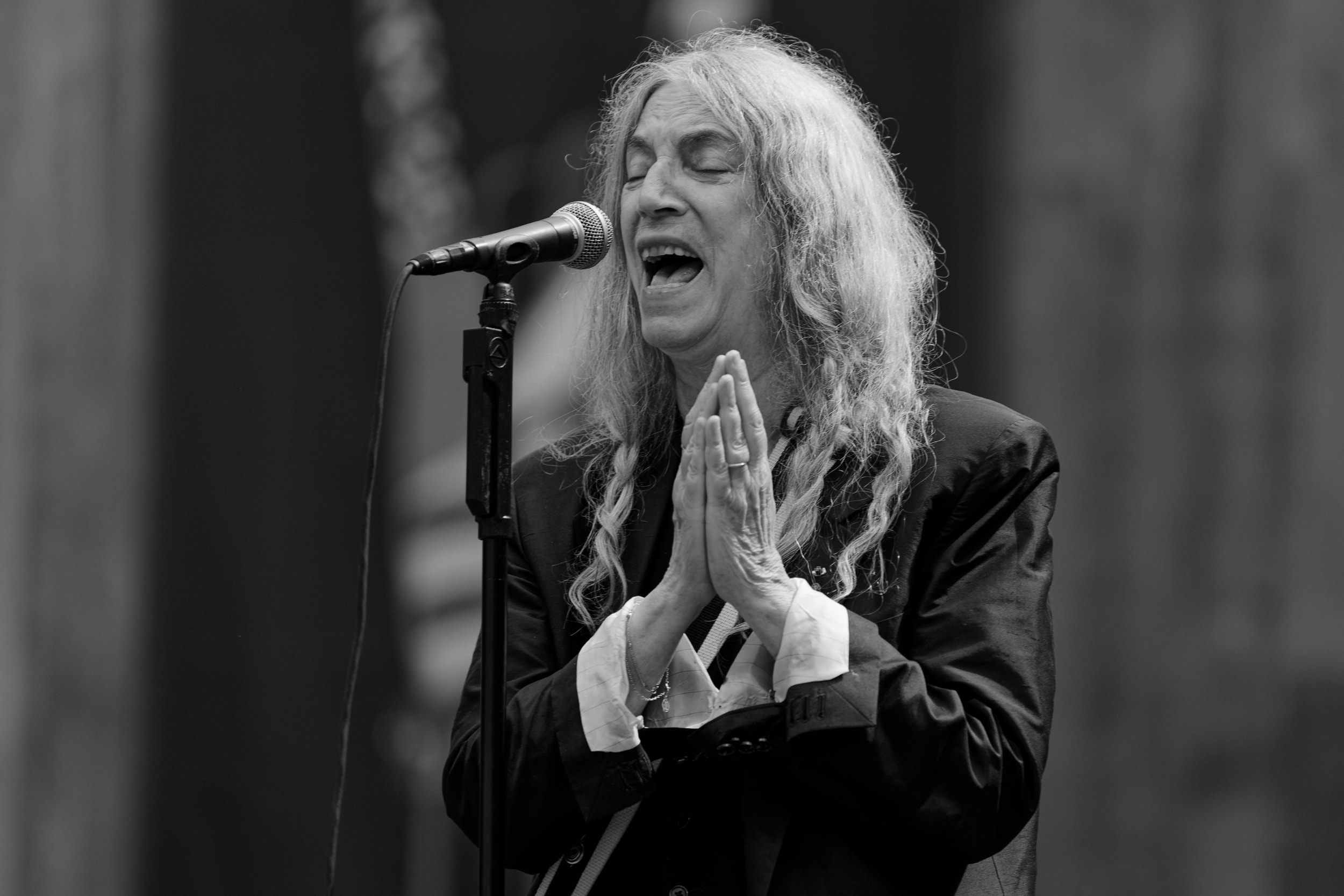 ---
---
You might also like
---