words by Patty Riek
photos by Jon Bauer
Ray of Light Theatre's production of Cruel Intentions: The 90's Musical offers a fun San Francisco night out!
The musical follows step-siblings Sebastian and Kathryn who are atop the social hierarchy at a New York prep school. Their machinations and heartless manipulations are set to 90s hits like "Just a Girl," "Sex and Candy," and "Only Happy When it Rains." Leslie Waggoner's choreography includes campy dance scenes, 90's dance moves, and a poignant ballet scene in Act 2. Singing to "Colorblind" Sebastian makes his way across the stage to Annette. The graceful dancers sometimes block and other times allow his progress.
The entire cast sings, dances, and acts with aplomb. Anne Norland stands out as she crafts Cecile as an awkward teenager coming into her own sexual identity sans the heartlessness of Kathryn.
Matt Owen's brilliantly simple set design is three levels of columns, arches and doorways (a nod to ancient Greek architecture and the origins of theater). Placed against the back of the stage allows for multiple scenes to unfold at once. The action in foreground is juxtaposed with eavesdropping, private encounters, and social judgment from characters above.
The off stage band – Jad Bernardo conducting and on keyboard, Mike Smith playing guitar, David Kelly-Tuason strumming the bass, and Lane Sanders on drums – adds a depth to the music that a recorded soundtrack just can't.
The motifs of treachery, machinations gone wrong, love vs. artifice, social taboos resonate today as much as they did in the original 1782 French novel Les Liaisons Dangereuses by Pierre Choderlos de Laclos, Christopher Hampton's 1985 screenplay, the 1988 movie, and the 1999 movie Cruel Intentions. The ROLT production adds its own sexy twists.
Cruel Intentions: The 90's Musical runs until October 1 at the Victoria Theatre. Get your tickets, grab a drink at the bar, and have a blast!!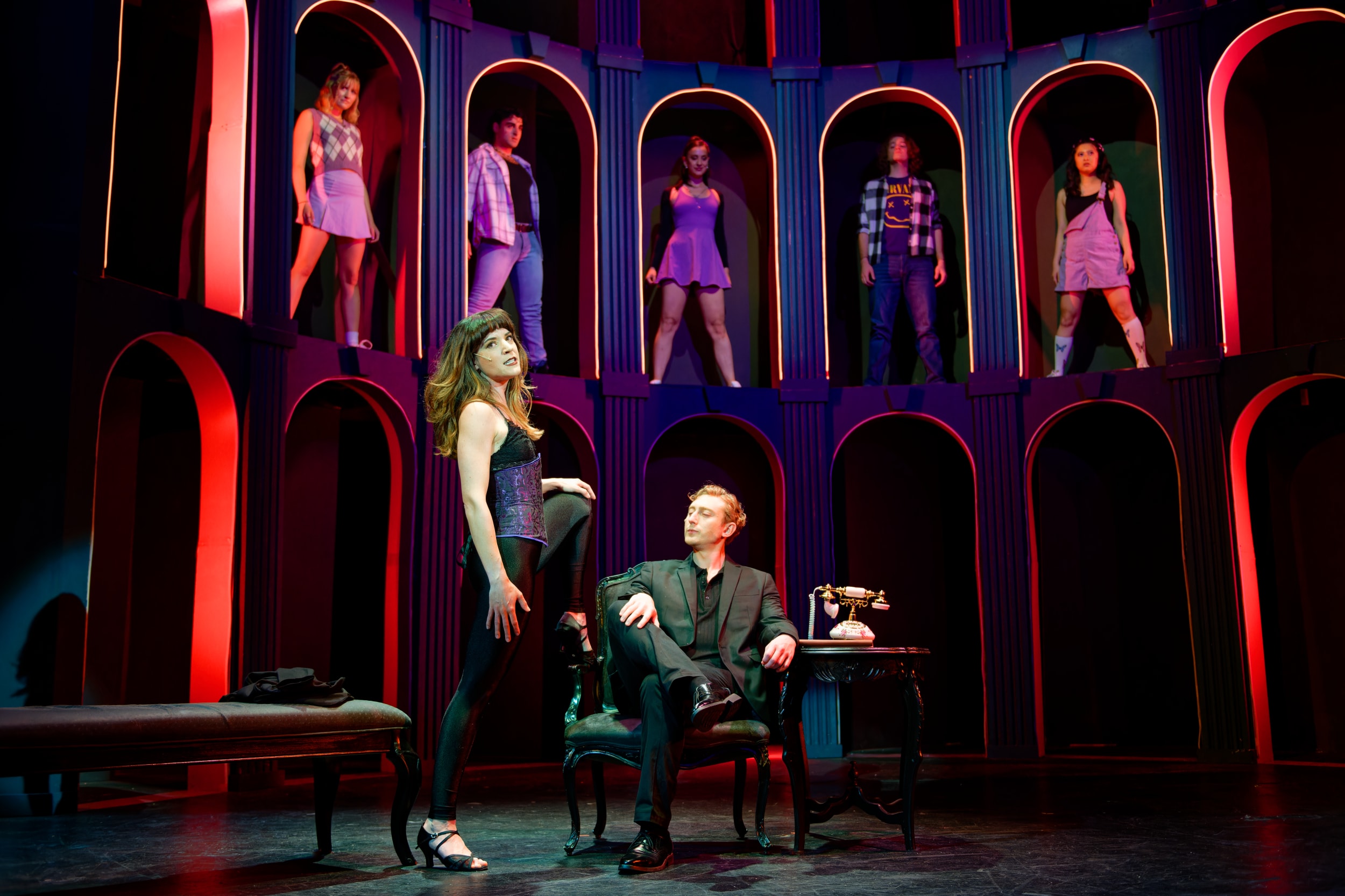 ---
---
You might also like
---