words by Patty Riek
photos by Jon Bauer
Andrew Bird brought his genre-melding, hard-to-categorize, delightfully idiosyncratic music to the Frost Amphitheater on a beautiful summer evening, July 22nd, 2023. Bird's richly layered sound included his violin playing and plucking, guitar work, recorded loops thereof, and his signature whistling. Adding to Bird's myriad talents were jazz master musicians Anna Butterss on electric and stand up bass, guitar, and back up vocals, Ted Poor on drums, and his omnipresent Janus Spinning Horn Speakers.
The rich live musical layering added more depth to Bird's already heady, heavy lyrics. The carefully curated show included seven of the 11 songs on Inside Problems, a few hits from previous albums and covers of Neil Young's "Harvest" and Duke Ellington's "Caravan." Bird's just released Outside Problems EP – an all instrumental work that focuses on the musical elements in everyday life recorded outside in Ojai, California – adds yet another layer to ponder in conjunction with his concert setlist.
Andrew Bird did not add much introduction or explanation to his songs, save a note about the "curious" piece "Stop N' Shop" written for his friend Jonathan Richman. While Bird did not say much at his concert, his lyrics have a lot to say about living in our modern world. In the second song of the evening, "Make A Picture," Bird crones, "Listen to the cries of the wounded metropolis/…I listen to the cries of the pliable populace/Giving us some dirty looks." The "wound metropolis" is coupled with the "a rising ocean" mentioned in "Manifest." While we (and Bird) ponder, he also notes in "Underlands" that the "Stars don't owe you anything/Don't give a damn about your nations" and then asks "What if the world goes spinning off its axis?/And what if the moon begins to wane before it waxes?" as he sings, a beautiful full moon was projected behind Bird.
What is a thinking person to do with such problems? Hard to tell. In "Lone Didion" (a nod to fellow chronicler of turbulent times Joan Didion) maybe we need to "Put the top down, skip town, yellow Corvette/Up to the East Bay, trees swaying, never get wet." Or, there is the hope of rebirth through molting in "Inside Problems," but "You lost your teenage plumage/So you can make the same mistakes again once more." The song "Atomized" also hints at starting over: "Start making your apologies/Stop blaming technology, yeah/Blaming technology, oh/May you please restart/"Making your apologies, oh."
Does history offer us any clues? Not really – just more ambiguity according to "Lusitania" because "It should help us not remember the Maine/You're laying mines along your shore/Through my hull it ripped and tore/We don't study this war no more." Our lack of attention to historical lessons is echoed in "Bloodless" when Bird sings, "Well, the best lack all conviction/And the worst keep sharpening their claws/They're peddling in their dark fictions/While what's left of us/Well, we just hem and we haw/And it feels like 1936/In Catalonia."
A recurring lighting effect throughout the night cast a variety of shadows of the musicians on the stone wall behind the Frost; sometimes the shadows overlapped, and it was hard to tell which shadow belonged to which musician. Reminiscent of Plato's The Allegory of the Cave, it was hard to decide whether to focus on the live musicians or the shadows they cast – both were captivating. This allusion suggests that maybe we are not understanding what we are experiencing? Was the Lusitania solely a passenger ship? "Make A Picture" asks us to "Tell us what you think you saw/What you think you saw." The final song before the encore,"Pulaski At Night," includes a similar musing on interpretation: "Half empty, half full." The most rock song of the night, the encore, "Capsized" explores this notion as well: "Now when you wake up/Night's falling, someone is by your side/Pull it together, darling you're not alone/But when you break up/Sky's falling, no one is on your side/Spoon dirty laundry, darling you're all alone."
Maybe "Sisyphus" offers the best advice for navigating all of these contradictory signals: "I'd rather fail like a mortal than flail like a god on a lightning rod/History forgets the moderates/For those who sit/Recalcitrant and taciturn." Perhaps doing something is better than doing nothing. As the audience filed out, humming the catchy "Atomized" and "Make A Picture" or relishing in the crunchy sounds of "Capsized" or thinking about the lovers in "Harvest" or "Caravan" Andrew Bird, like the molter in "Inside Problems" left a "little piece of [him]…behind" in each of us.
Uwade (Uwade Akhere), opening for Bird, was a perfect companion performer. Unlike the more taciturn Bird, she introduced each of her songs with background information. Her first song, written for her late father, offers "if time is all we have, I promise not to waste it." Songs about a Nigerian proverb, a crush, a Blood Orange cover to honor the town of Palo Alto, and a song about the Harmattan in West Africa all highlight the beautiful minimalism of her work. Most of her songs were just her clear, steady, soaring voice and a guitar (joined on stage for a few songs with her bassist friend Andy.)
Frost early birds hung out and danced with Weekend Girl's vinyl fueled DJ set.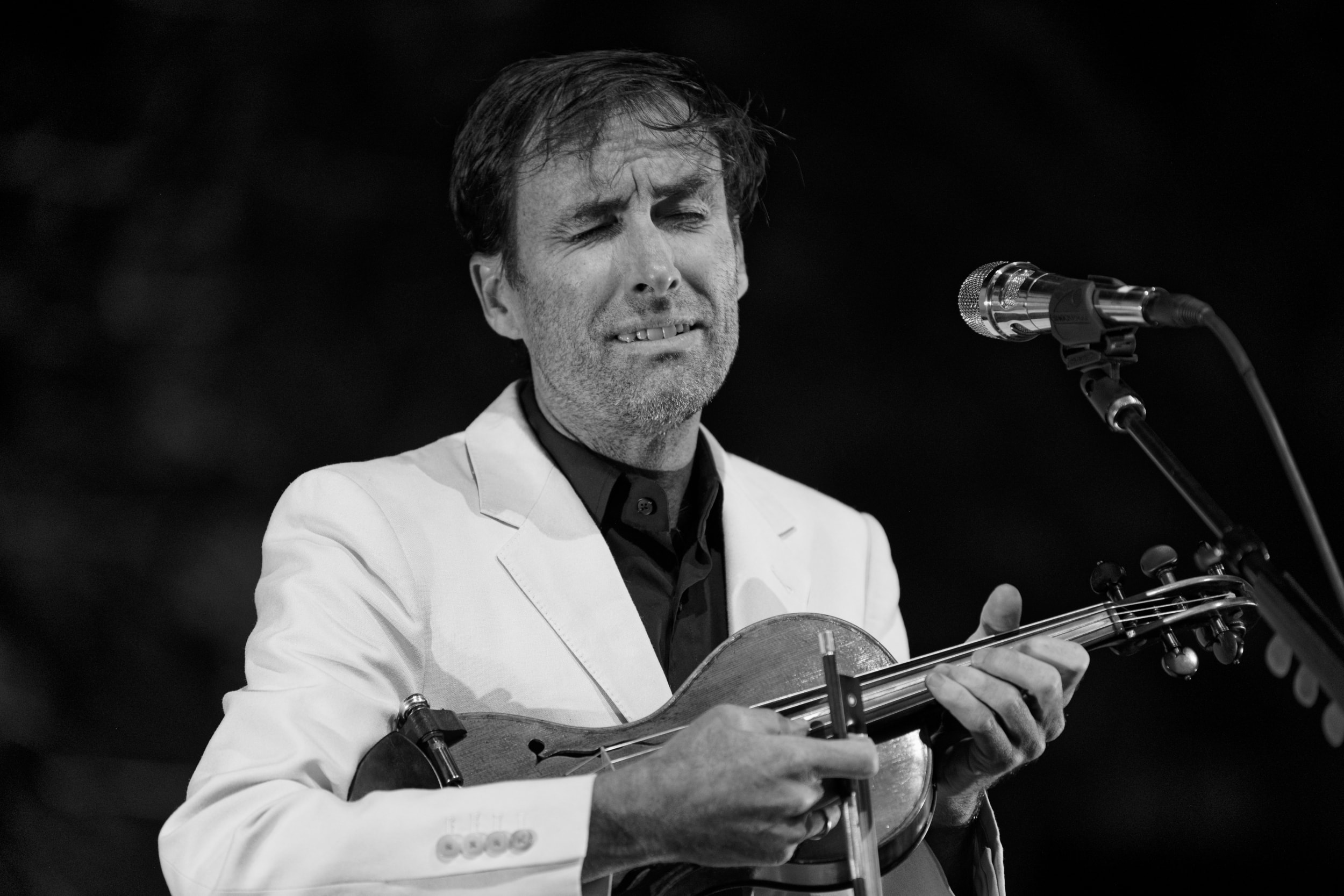 ---
---
You might also like
---