by William Wayland
Just like you, I got up on Friday morning, made coffee, poured myself a bowl of cereal, and clicked to see what was happening with the debt ceiling. Then I checked to see what new albums had been released that day.
I was a few songs into "Can I Communicate with the Unknown?" when I reached out to Ryan McCaffrey (aka Go By Ocean) to ask if he would be interested in talking to me about the album.
He had lots to do, including a record release show at Tommy Breeze Headquarters that night but maybe we could squeeze in a call after I took the dog for a walk.
"Yeah man let's do it :)," Ryan texted back.
William: So, you released the "Can I Communicate With the Unknown?" today (June 2, 2023) but you started recording in March, 2020, right around the time the pandemic hit. Can you talk a little bit about how you started work on the album?
Ryan: Well, I always just have a bunch of songs that I'm working through. When it was time to record. I wanted to work with Tim Bluhm because the last two EPs I had made were very involved with a ton of layers. I used a lot of drum machines and synthesizers.
With Tim, my initial concept was to make a record that's really stripped down–my vocals, acoustic guitar, and maybe we'll put some piano on it. Tim brought his Mellotron and we were like, okay, I think that's the record.
But I have my studio here (Sun Machine Recording) and since we had the time and other people had the time, I took it as an opportunity to really just do a bulk of the recording myself. That was something I hadn't really done so I started futzing with the songs and I would think, 'we need to hear what it sounds like with drums,' and it just started turning into what it ultimately became.
You recorded the bulk of this album over Covid. How does the fact that it took three years from start to finish affect the production of an album? How do you keep the momentum going?
It was a little sketchy because we were distancing. Do we wear masks? How do we go about this? So, at first it was a little bit of a tiptoe to bring in people in, even though a lot of them were my friends. We kind of just had to sort that out.
But we actually finished the record over the course of about a year, maybe a year and a half. Once I had pretty much the bulk of the instruments on it, I started sending songs over to David Glasebrook, the CEO of Royal Oakie Records, to see if he was interested. We were kind of going back and forth and he was like, 'Yeah, let's do it.'
When you got together with Royal Oakie, how did that help to bring the record along?
David had a lot of really good ideas and helped with some of the songs where I was like, I think this is okay, but these are the sounds I have in my head. And, you know, there were a couple of songs that were still really bare bones and we decided okay, well, let's work on these to give everything some continuity.
So Royal Oakie really helped to finalize the record once we signed on with them. And then it came down to the label having a certain amount of records that were backed up, waiting to be released. We had to kind of get in line but we could have easily released "Can I Communicate With the Unknown?" in June of last summer.
And probably even a little bit before that. But it's just one of those things where sometimes you can't really rush it. I released "Mend the Morning Light" right at the beginning of 2020. And it just kind of got lost in obscurity, you know? Because that ended up being right before lockdown.
It sounds like you've got a great relationship with Royal Oakie.
It's just been nice to have someone on my team–or to be on someone's team–where they're looking out for you and helping and they're there. They want "Can I Communicate With the Unknown?" to succeed and have the network to get the album reviewed. It's been worth the wait.
So, what's the plan? What's the distribution and publicity like?
They have UK and European distribution, and a PR company to get the music into the world of streaming and all that stuff. They have contacts with playlists and stuff.
I know you're heading down to Ventura tomorrow. Is this going to turn into a longer tour or maybe an opportunity to play with other Royal Okie musicians when they come to town?
Well, we're playing with Michael Tapscott tonight. He's opening and he's great. His records are really really good.
Royal Oakie threw a 10-year anniversary at the Balboa Theater. It was like a day-long, festival-type deal so we all played and there are just some good bands on that label. Whisker Man is on that label. Sandy's is a Bay Area band. And I love Sandy's. There's a band called Credit Electric. I mean, there's like a lot.
And I would love to tour far and wide. I would love to have the album create opportunities to do that.
I know there's an interesting story around how the title of the album came about. Do you want to talk about that?
Yeah, so there is an AI function in Pro Tools, the software we used to record this record and I was engineering. At some point in tracking I must have just said that into the talkback recorder and when David and I were going through the hard drive, one of the sessions was titled "Can I Communicate With the Unknown?" and we were, like, what is that? That's hilarious. And that doesn't sound far from something I'd say so we were just like, that's a good name for a song or that'd be a good name for the record. Okay, let's roll with that.
Last question because you've got to get to the gig tonight. What does this record mean to you?
I feel like this is a good representation of my aesthetics and I got teamed up with someone to help me finish and mix that has similar tastes, you know.
And I feel like the song, "Ascending Ghosts" is a good example of all of my influences distilled and boiled down into one thing. It's got this samba thing and I love bossa nova music. I love jazz.
There's a lot of horns on the record. A lot of my listening is to the classic jazz artists. I love Lester Young. I love Charlie Parker. I love John Coltrane. Miles. Stan Getz. And all that bossa nova stuff that Stan Getz did. Those records are in rotation for me constantly.
I don't think there's much of my music that sounds like that but if I can at least sneak in some horns or some of that rhythmic sensibility then I feel like, yes, I'm accomplishing some new territory.
And just trying to be honest about where I'm at. I'm not going to try to sound like something else, even though I'm constantly inspired by new sounds or what's currently happening. I love making records so it's always awesome for me to listen to new production ideas or new sounds. We're influenced by everything that we hear.
This record sounds closer to what I sound like at this point. It's a good example of that.
So, what are you hoping for with this record?
I hope a ton of people hear it. I hope musicians hear it and people that are within the music world would want to be a part of it.
I really appreciate you giving me the time, Ryan. I'll see you tonight.
Cool, man. It's gonna be a fun one.
***
Later that night, Go By Ocean played Tommy Breeze Headquarters in Fairfax on Friday, June 2nd, with Michael James Tapscott opening.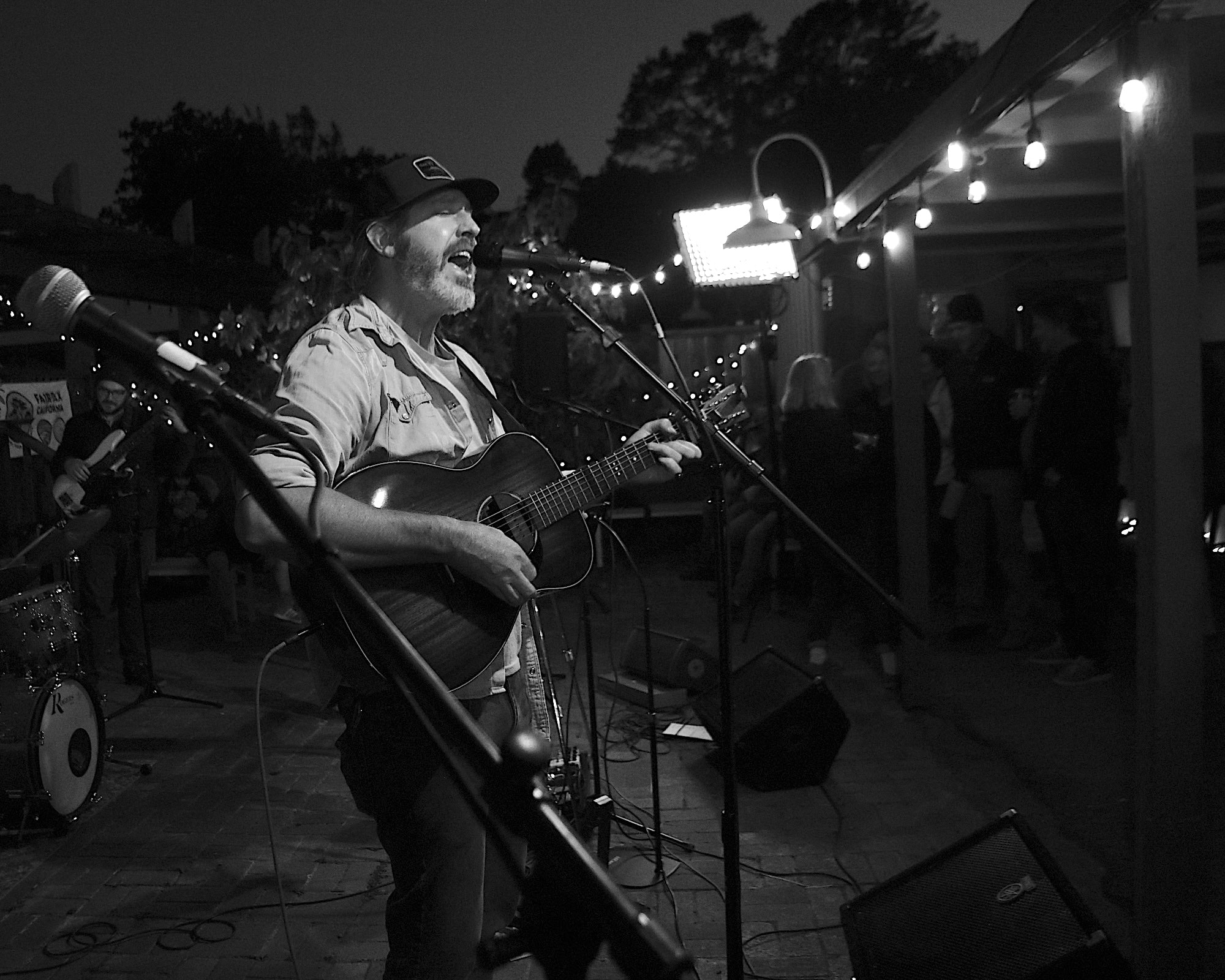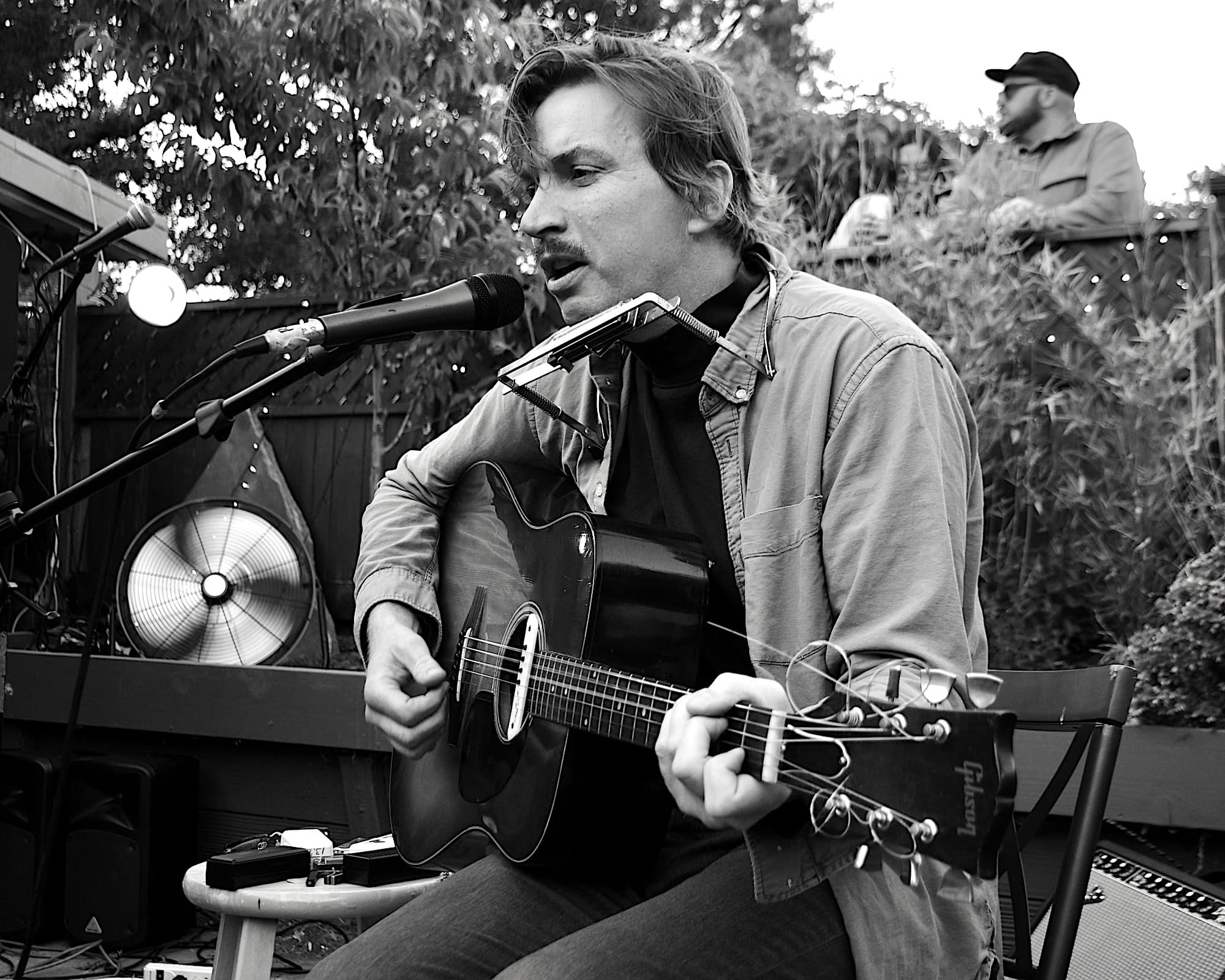 ---
---
You might also like
---