Photographs by Marc Fong / Reviews compiled by William Wayland
While Marc photographed the festival (see his photos below) I asked people what memories they'll take away from BottleRock this year. Here's what they said:
My fave memory was Duran Duran – the video they showed before walking on stage to them appearing – I was an 8 year old again screaming and freaking out. Simon Le Bon still had killer swagger and a great voice.
Lil Nas X was the most fun performance.
Chilli Peppers still have more energy than god.
Leon Bridges won for coolest bucket hat.
Amy C.
***
Dancing to Duran Duran.
Watching the Red Hot Chili Peppers.
The pizza dough juggler on the cooking stage.
Watching people's faces light up as they approached the Hendrick's bar.
Slim C. (Hendrick's Gin Performer)
***
Red Hot Chili Peppers
Duran Duran
Julie D.
***
Duran Duran's Simon Willescroft and Anna Ross
Also playing Hungry Like the Wolf as the sun is going down!
Aggressive scalpers
Bathrooms near the stage closed at the end of the last show. Thousands couldn't go to the bathroom and workers were yelling at guests.
Christy G.
***
The chill sounds of Caamp
The second half of the Chili Peppers set
Method Man's performance at the Wu-Tang set
The smell coming from the food vendors on the street as you left BottleRock
Jason G.
***
Billy Strings wowed everyone.
Thievery Corporation's roster of lead singers.
Post Malone's effin talented, yet primarily solo, performance.
Rick H.
***
A woman arguing with her man about wanting to get closer to the stage for Duran Duran. Her: Let's get closer up. Him: it's good right here. Her: I want to go up to the front. Him: But here's good. Her: I WANT TO TOUCH BALLS!!!
Dogstar at the Culinary stage. For food prep, the chef kept using the spoon that Keanu used for tasting. When the food was done and the chef asked how it was, the singer said: It's good but it would taste better off Keanu's spoon.
Duran Duran covered White Lines. So unexpected, and so awesome! It was my first time seeing Duran Duran, so for all I know they always do that one. But I loved it!
Andrea K.
***
I loved watching John Taylor and Roger Taylor (from Duran Duran) on the Williams-Sonoma stage. I think they made hearts of palm salad dressing.
Starcrawler was a total trip.
I really enjoyed getting a B 12 shot in the butt in the spa.
Duran Duran set was amazing and they played some rarities this time which made me very happy. Lonely in Your Nightmare rolled into Super Freak. That was a whoo hoo moment.
Did you see the local kid named Luke get up and play guitar while Post Malone was singing? That was epic.
The chef who had a missing front tooth.
Erin K.
***
Running into unexpected friends who were attending, working, and performing at BottleRock
The paella in the artist lounge (I always look forward to this, glad it hasn't changed)
Wu Tang's introduction to their cooking set
Brendan L.
***
Nice people
A big stage
Large screens
Ok sound
Chili Peppers brought the fire
Chad. L.
***
It was dangerously crowded! Getting out was a nightmare.
Tonya L.
***
The Red Hot Chili Peppers was the best concert we have ever been to in our entire lives. The art, the sound, the crowd was all so ecstatic.
Billy Strings. He is still being discovered but it was so fun getting to see him for the first time and watching other people fall in love with his music.
The food and service: everyone at the festival working was so kind and willing to help you out! the food was also so so tasty! Our favorite was the loaded tater tots we had. 😋
Hannah M. and Eli
***
Walking around the festival and being told by a lot of people that my performance was great made me feel very appreciated and was highlight of my weekend.
Getting to open up and share the stage for so many great bands and artists who I look up to was another highlight.
Seeing the Smashing Pumpkins in such a small venue (Jam Cellars Ballroom) was a very cool experience.
Kai M. [Drummer, The Alive]
***
Mike Campbell & the Dirty Knobs opening with Running Down A Dream!!
Moonalice and the T Sisters harmonizing on Birdsong, oh so sweet!
And WAR closing out the day getting everyone singing together, "Why Can't we be Friends…?!" On days like this, everyone is!!
Dave P.
***
I was able to see and hear Sgt. Splendor on 2 stages.
Running into you, William, that is and was cool.
Listening to WAR going long with "Cisco Kid" and then do the song "Spill the Wine". So appropriate for the Festival could have been "Drink the Wine".
Moonalice and Starcrawler performing are great memories as well.
Jimmy R.
***
Getting to rock the Truly Stage with Sgt. Splendor
Lucius's amazing vocal harmonies and disco party attire
Phantogram – an new find for me
Angeline S. [Bass, Sgt. Splendor]
***
Had lots of fun playing on the Allianz Stage
Seeing the Wu-Tang show and being backstage with them and the Chili Peppers
Working with our wonderful artist liaison Julie and all the amazing staff at BottleRock that made our experience easy and fun.
Ryan S. [Trumpet, Monophonics]
***
The Alive were amazing
Jerry S.
***
Discovering Half-Alive. Interesting trio with male backup dancers in sweater vests. Wasn't sure if they were sort of a joke, still not sure but super entertaining to watch.
Sheryl Crow, the consummate pro. I'm a deep-cut Sheryl fan but she did play some of those so I was happy.
And I'm 30 years late to discovering Los Lobos. They were incredible. Totally exhilarating show and I hope to see them headline someday. Didn't know they'd been together 50 years!!! Incredible musicians!
Maya W.
***
Taj Mahal started his show by telling the crowd that he was 81-years old. He's been performing longer than anyone at BottleRock (to my knowledge) and it showed in his easy way with the audience. It felt like we were on his back porch just hanging out and listening to music.
My wife, who doesn't really do music festivals, was with me on Saturday, and I was a little worried that she wouldn't have fun but she LOVED Nile Rodgers & CHIC. She said seeing him perform made it the best day of 2023 so far.
I'm a big Monophonics fan and it was great to see them play BottleRock once the stage crew fixed the technical difficulties.
William W. (Me)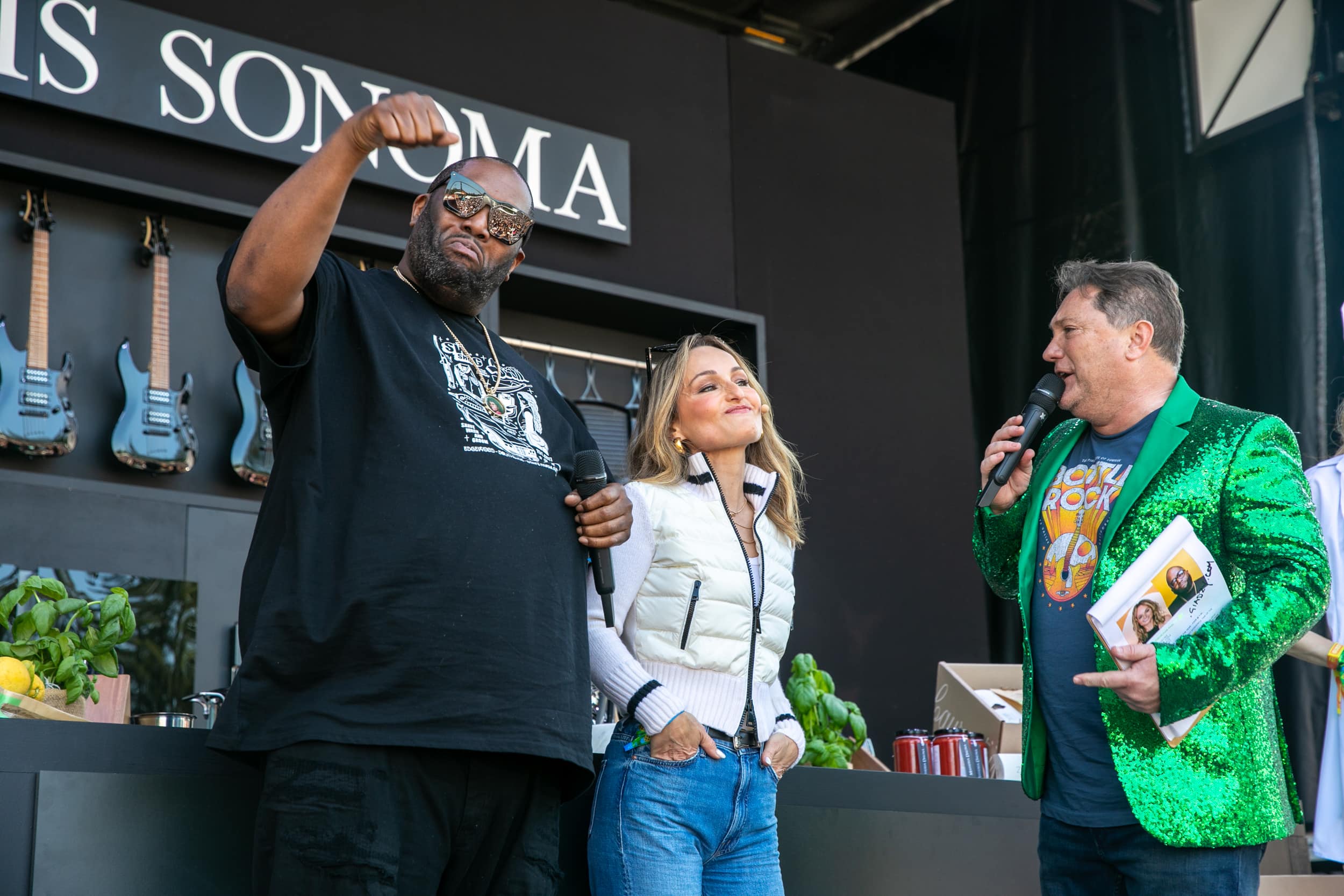 ---
---
You might also like
---